Nineteen-Year-Old Racer born and brought up in Bengaluru will be the third Indian to race in Formula One, if he gets a drive, and the position as Development Driver is a right step in that direction
Bengaluru, 11 May 2017: Motorsports fans and aficionados got a breath of fresh air with the pleasant news this afternoon that Arjun Maini, an Indian GP3 racer, will make an entry into the world of Formula One. After a gap of five years, an Indian will become part of an F1 team again to fulfill the much-awaited dreams of many a racing fan.
Haas F1 Team announced from Barcelona on Thursday that it has signed Arjun Maini as a development driver ahead of the Spanish Grand Prix on Sunday. Maini will join the team alongside 18-year-old American Santino Ferrucci. Haas, the American team, has been racing in the F1 2017 season, with Kevin Magnussen and Romain Gorsjean as its main drivers.
Bengaluru boy, the 19-year-old Maini, is competing in the GP3 Series for Jenzer Motorsport after running 14 of the 18 GP3 Series races in 2016. Despite missing the first four races, Maini finished 10th in the championship standings with a best finish of second, the podium he earned on July 23 at the Hungaroring in Budapest.
Maini has interacted with the media today at the Haas F1 Team hospitality in the paddock at Circuit de Barcelona but was not immediately available for comments. However, he sent his quotes through an email through the team.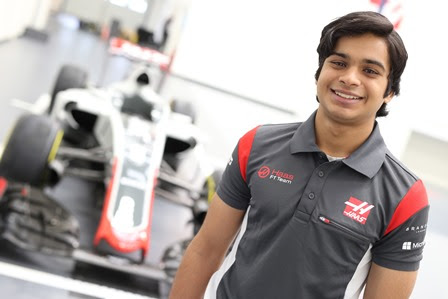 "It's an honor to be a part of Haas F1 Team's driver development program," Maini said. "All of my racing to date has been with the focus of becoming a Formula One driver, and this opportunity puts me one step closer to my goal. I am eager to learn, understand and experience how a Formula One team operates. Everything I learn can be used immediately in GP3 while preparing for my ultimate goal of Formula One."
Sponsors and big-finance plays a big role in getting a seat initially in F1, even for talented drivers and it is heart-warming to note that Maini made it without paying funds. But apart from the huge money required in the process of gaining an entry into F1, drivers face a huge challenges of different kinds.
To compete and develop as a competent driver of high standard in India has been a big challenge and the youngster and his supporters, especially his father Gautham Maini, have patiently and painstakingly endured the hardships to see his potential blossom into a development driver slot and the real battle begins now as he makes the last push for an F1 seat.
A few years back, India's youngest F1 driver, Karun Chandhok was impressed by the talent and dedication of Arjun Maini and stated that he looks forward to helping the teenager become India's next Formula One driver. And true to his promise, the current F1 commentator and Le Mans driver played a mentor's role to get Arjun the break through.
To put Arjun's qualities in right perspective, it is best to remember what Karun said when the youngster was just 15: "Arjun has no ego and he is ready to listen to advice from team and people like me who have been there and done it. A lot of drivers are out there, but the only thing that will set you apart in today's world is the hard work you put in outside the car with the engineers and the dedication you show in fitness training. Arjun has worked sincerely in that direction and grasped the nuances fully and I can assure you that his work ethic is fantastic."
In an email message from the Spanish paddock to www.INDIAinF1.com, Karun said: "I've been managing Arjun along with his father for the past few years. Since the back end of last year we were working on a link with an F1 te
am and it took a few months for his dad and I to work with Guenther Steiner and the team at Haas F1 to get here. It's a good first step into the F1 world and Arjun will learn a lot. How we convert this to a race seat in F1 will largely be down to his season in GP3 which starts this weekend." 

"Still, I feel very proud to be one of India's only 2 F1 drivers thus far, and I hope to help him expand that club in the future," he concluded.
With a rich heritage in Indian Motorsports, J.K.Tyre has supported Arjun since the age of 9. The company seeks to promote and nurture young racing talent in India and have backed almost all the Indian drivers who have made a mark globally. Arjun is proud to continue his association with the company that has backed since his karting days into 2015, and has seen him race primarily across Europe.
Talking to this website, Sanjay Sharma, Head of Motorsport, JK Tyre Motorsport, said: "The kid is on the right track. A good opportunity has come his way. I only pray he proves his worth going forward and convert this prospect into a seat in the highest echelon of motor sports."
Like Ferrucci, Maini will be embedded with Haas F1 Team at every opportunity, attending races and tests throughout the year while also participating in the team's simulator program.
Haas F1 Team made its debut in 2016, becoming the first American Formula One team in 30 years. Now in its second season, Haas F1 Team is looking to build upon its impressive first year, where it finished eighth in the constructors standings with 29 points.
"As Haas F1 Team continues to mature, we must look toward our future and develop potential talent," said Guenther Steiner, team principal, Haas F1 Team. "Arjun was successful in karting and has transitioned well to various Formula series and now GP3. We'll keep a keen eye on his progress this year."
The GP3 Series runs in conjunction with Formula One May 12-14 at Circuit de Barcelona – Catalunya, July 7-9 at the Red Bull Ring in Spielberg, Austria, July 14-16 at Silverstone Circuit in England, July 28-30 at the Hungaroring, Aug. 25-27 at Circuit de Spa-Francorchamps in Belgium, Sept. 1-3 at Autodromo Nazionale Monza in Italy and Nov. 24-26 at Yas Marina Circuit in Abu Dhabi, UAE. The only non-companion race weekend is the penultimate round Oct. 6-8 at Circuito de Jerez in Spain.
Maini earned his first title in 2007 when he won the Rotax Mini Max National Championship. Numerous wins and podiums followed before Maini began the transition to open-wheel machines. He won the 2013 Formula BMW Super Six Series in Asia and finished second overall in the 2014 BRDC Formula 4 championship with four wins, 10 podiums, five poles and six fastest laps. In 2015, Maini competed in the Toyota Racing Series New Zealand and finished fourth in the standings with two wins, five podiums, three poles and two fastest laps – a performance that led him to GP3 in 2016.
Haas F1 Team debuted in the Formula One World Championship in 2016, becoming the first American-led Formula One team since 1986. Founded by industrialist Gene Haas, Haas F1 Team is based in the United States on the same Kannapolis, North Carolina, campus as his championship-winning NASCAR team, Stewart-Haas Racing. Haas is the founder of Haas Automation, the largest CNC machine tool builder in North America, and he is chairman of Haas F1 Team.
eom/Haas press release